GYTO's Level Up Conference
March 13, 2021 @ 10:00 am

-

5:00 pm

$60
We've reached out to educators all across the country and asked for your specific pain points in Math and ELA for K-5 instruction. Then we built a conference to address those specific standards and needs. Join the Get Your Teach On team as we give you strategic ways to teach power standards in your virtual, hybrid, or face to face classroom.
Register now and join Team GYTO on Saturday, March 13th for a virtual conference experience like we've never done before! Plus, get access to all session recordings, resources, and downloads for TWO YEARS!
Visit getyourteachon.com/levelup for more information!
All registered attendees will receive:
Two LIVE Keynote Sessions
8-10 Content Sessions and/or Model Lessons covering specific Power Standards for each grade level and subject (5 for K-1 Math)
Digital Conference Swag
Digital Teacher Planner
Downloadable Certificate for PD Hours
Access to all content and resources for TWO YEARS!
For each Power Standard addressed, you will be coached through and provided:
Explicit training on how to instruct and assist students in mastering challenging and confusing content standards
Full Lesson Plans for each Power Standard
Digital and/or Printable Resources to implement strategies right away
Assessment to check for mastery of each Power Standard
This is an unprecedented amount of content and resources equipping you with the tools to implement strategies for each covered Power Standard immediately!
Site Licenses
Want to bring Level Up to your entire school? Purchase a site license or group registration (5+ teachers) and save 20% plus have all fees waived. Click here to submit a quote request!

Agenda
This virtual conference will kick off with a LIVE welcome and keynote presentation by Hope and Wade King on Saturday, March 13th at 10:00am EST! After the keynote, you will immediately have access to the sessions for your selected grade level and subject area, as well as all lesson plans, assessments, and other resources associated with the sessions. We'll wrap up the day with another LIVE keynote presentation.
You'll have replay/on-demand access to all sessions, content, and downloads until March 31, 2023 (TWO YEARS)!
Conference Guides
Click here to download the conference guides for the different grade levels and subject area to see what content standards will be covered for your desired experience!
Choose Your Track
Register by selecting the grade level and subject area that most interests you, or select the ELA & Math Bundle for your grade level to have access to all content for that grade at a discounted price!
Each grade level and subject area has 8-10 content sessions led by incredible educators. Attendees selecting Kindergarten or 1st Grade Math will have 5 content standards and sessions.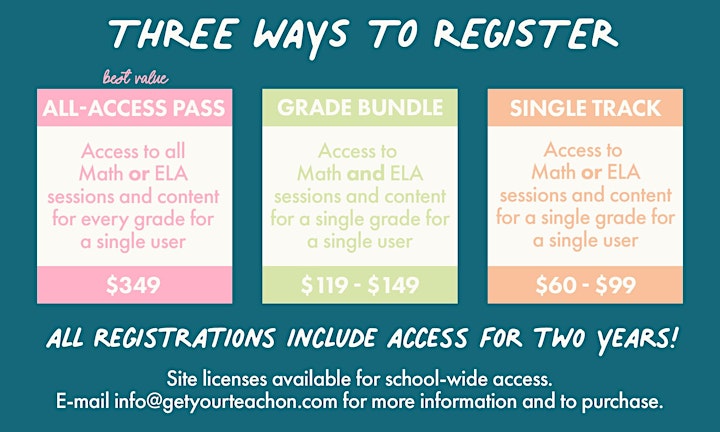 Incredible Presenters & Inspiring Keynotes
Join educators and authors Hope and Wade King for two inspiring keynote presentations to kick off and wrap up this virtual conference!
The experienced and talented educators below will coach you on how to expertly teach challenging standards for your students, whether face to face or virtually. Download the conference guides for a session breakdown for each presenter.
Abby Mullins
Adam Dovico
Alissa Bennett
Amelia Capotosta
Amy Lemons
April Graves
Ashley Ramirez
Ashley Schroeder
Brittany Hege
Cara Carroll
Clamentia Hall Jr.
Ha Dinh
Holly Hodges
Hope King
Jessica Ivey
Joanne Miller
Juan Gonzalez
Katie King
Katie Smith
Keanna Funderburk
Kelli Sanders
Kristina Grant
Kori Markussen
LaNesha Tabb
Mary Montero
MoNique Waters
Naomi O'Brien
Nicole Turner
Rachel Fairchild
Reagan Tunstall
Safiya O'Connor
Sarah Dlouhy
Sara Mayre
Shane Saeed
Wade King

Payment
Unless registering a minimum of five teachers through a site license, all registrations must be paid with a credit card at the time of registration. Schools purchasing a minimum of five registration through a site license may pay via credit card or check. Click here to submit a quote request for a site license.
Voucher Redemption
We are pleased to announce that attendees with a GYTO Voucher may redeem it for all GYTO virtual and in-person conferences. Please email our customer support team at info@getyourteachon.com to redeem your voucher and register for the event.
Site Licenses
Site licenses are available for this event! Click here to submit a quote request form to purchase access for your entire school or district.
Multiple Attendees/Registering On Behalf of Someone
If purchasing multiple registrations or registering on behalf of someone else, you will be prompted to enter names and emails for each attendee. It is critical that you include the actual attendee's email as this is how they will access the online content. If your school district regularly blocks emails, we highly suggest using a personal email (like Gmail). Again, each attendee's actual email address needs to be entered during registration or they will not be able to access the online conference.
Certificate & Hours
All attendees will a certificate for the hours attended upon completing the conference. However, districts and states often have different requirements for hours, and we encourage you to check with your district to ensure this will count towards your professional development hours. The certificate will be available via download link within the main event portal.
How Does it Work?
GYTO's Level Up Conference is a a virtual conference in the form of an online webinar and on-demand sessions. You will receive links to access the event portal in your confirmation email. Once the conference is over, you will have access to session content and replays until March 31, 2023 (two years).
Miscellaneous
Agenda subject to change. Get Your Teach On reserves the right to withdraw, replace, add, or substitute presenters without notice. We use Eventbrite as our online registration provider. By registering for the conference you also agree to their Terms of Use and Privacy Policies. By registering for the conference, you also agree to be added to our email list. All material and content is subject to copyright by the individual presenter(s) and Hope King Teaching Resources Inc. All registrations are final and no refunds will be issued.